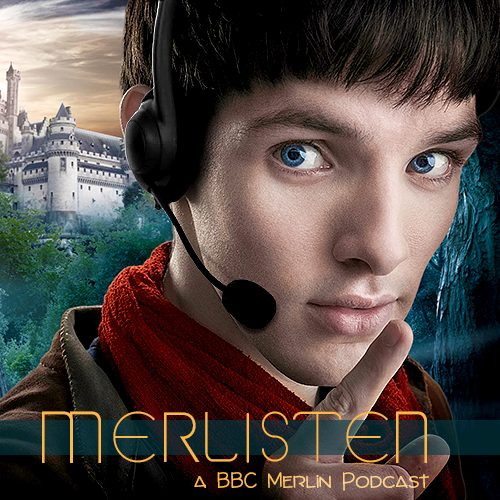 In today's episode, momo and MissSnowFox take a closer look at the show's main protagonist, Merlin, and how his character developed over the seasons. The legendary Merlin is introduced as well, and of course we also take a look at fanworks.
To get in touch with us, send an email, an ask on tumblr, or tweet at us on twitter.
To stream or download the episode, and to find all relevant links, come this way.
Download here [Right click, save as]
---
News:
Write every day on Merlin_Writers on LJ for all fic projects
Write every day on Reelmagic on LJ for ReelMerlin projects
Write every day on Beneathdacastle on LJ for ftf Merlin projects
Bottom Arthur Fest on tumblr, Nov 13-20
Merlin Advent Calendar
Camelot Drabble 6th Annual Holiday Exchange Fest
COiNELOT Reincarnated ticket announcement
Merlin Telephone Art Game
Resources
Merlin Wiki
AO3 meta entry re: birthdates/ages of characters
Behind the Name: Merlin
Rox' YouTube channel
Statistics
AO3 stats on 1 Oct, 2017:
29,493 works with the character tag "Merlin"
16,400 works with Merlin in a pairing (barring any overlap)
Top 5 pairings:
12,624 Merlin/Arthur
902 Merlin/Morgana
800 Gwaine/Merlin
352 Freya/Merlin
255 Merlin/Mordred
Further combinations*
168 Gwen/Merlin
156 Gwaine/Merlin/Arthur
151 Lancelot/Merlin
132 Gwen/Merlin/Arthur
131 Merlin/Percival
113 Merlin/Uther
110 Merlin/Will
62 Gwen/Merlin/Morgana/Arthur
58 Knights/Merlin
53 Merlin/Mordred/Arthur
51 Merlin/Mithian
50 Leon/Merlin
34 Elyan/Merlin
28 Merlin/Morgana/Arthur
27 Lancelot/Merlin/Arthur
16 Cenred/Merlin
16 Freya/Merlin/Arthur
15 Knights/Merlin/Arthur
15 Merlin/Nimueh
13 Gaius/Merlin
12 Gwaine/Lancelot/Merlin
10 Gwaine/Merlin/Percival
7 Gwen/Merlin/Morgana
6 Kilgharrah/Merlin
5 Leon/Merlin/Arthur
5 Elena/Merlin
5 Merlin/Morgause
4 Gwen/Lancelot/Merlin/Morgana/Arthur
2 Elyan/Merlin/Arthur
2 Merlin/Vivian
2 Freya/Merlin/Morgana
1 Merlin/Morgana/Uther
1 Gwaine/Merlin/Morgana
1 Merlin/Morgana/Nimueh
1 Merlin/Morgana/Knights/Arthur/Gwen
1 Gaius/Merlin/Arthur
1 Gaius/Gwaine/Merlin/Arthur
1 Elena/Merlin/Arthur
1 Merlin/Nimueh/Uther
*Disclaimer: Momo didn't check all the combinations of Merlin with every single minor character.
Recs/mentioned fanworks
Drastically Redefining Protocol by rageprufrock
im breaking i cant do this on my own Video by Specialisyou
human Video by pobalex
Get it right Video by samellon
The King of Mars by Ivalee, With Fanart by Brolinskeep aka rou
And like the cycle of the year, we begin again by katherynfromphilly